Patrick O'Shaughnessy
Owner, General Contractor, Master Carpenter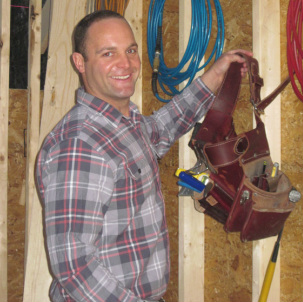 Patrick is a former instructor for the Carpentry program at the
North Bennet Street School
, which is recognized as one of the premier woodworking schools in the country and is also a graduate of the program. He has trained dozens of carpenters and has worked along-side various designers and architects who all express a shared enthusiasm for his talent to interpret building concepts and guide construction anticipating each step to match the homeowner's desires perfectly. For each project he collaborates with all related parties to make sure that everything comes together exactly how it should.
As part of his training in the time-honored skills, ideas, and values of fine craftsmanship he has complete dedication to the highest quality of work. Patrick takes pride and personal satisfaction in perfecting his craft and expressing this passion in every project he takes on.
---
Caitlin O'Shaughnessy
Operations Manager, Customer Service

Caitlin has a flair for connecting with our clients and making your project an enjoyable and personal experience. She will provide timely communication and simple straight forward information regarding the progress of your project, scheduling or answering any of your questions. Her enthusiasm, promptness and availability to coordinate with you throughout the duration of the project will give you the assurance that you are in good hands and that your needs will be fulfilled.


---


All of the Sequoia Custom Builders Inc. carpenters and assistant carpenters are graduates of the North Bennet Street School. Their formal training in carpentry and preservation carpentry prepares them for a wide range of construction services.
---